upcoming events
Better Cities Film Festival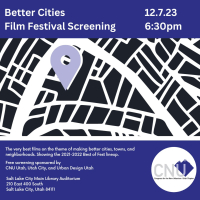 This is a free event to the public, which will take place Thursday, December 7, 2023, at 6:30 pm in the auditorium of the Salt Lake City Main Library at 210 E 400 S, Salt Lake City UT 84111. The films being shown are a series of short films that focus on topics of community building. You can see the short film line-up on the Better Cities Film Festival website (CLICK HERE) by reviewing the 2021-22 Playlist.
We would love to have you join us at the event. It will absolutely be worth your time to attend. We would also appreciate it if you would share this invitation with others that you think would appreciate the subject matter of the short films.
See you at the Better Cities Film Festival!