In the late afternoon heat of a mid-July afternoon, Greg Montgomery smiles as he cranks up the 14-passenger van that will take a group of New Urbanism enthusiasts to four unique neighborhoods that he has been working on in the past two decades. Greg has been contemplating the question of "What to do with the 10-acre block" over the good portion of his career at the Ogden City Community Development Department. Like many cities in Utah, Ogden was founded upon the principles of the Plat of Zion that organizes the city into an orthogonal grid that has ample right of ways and long blocks.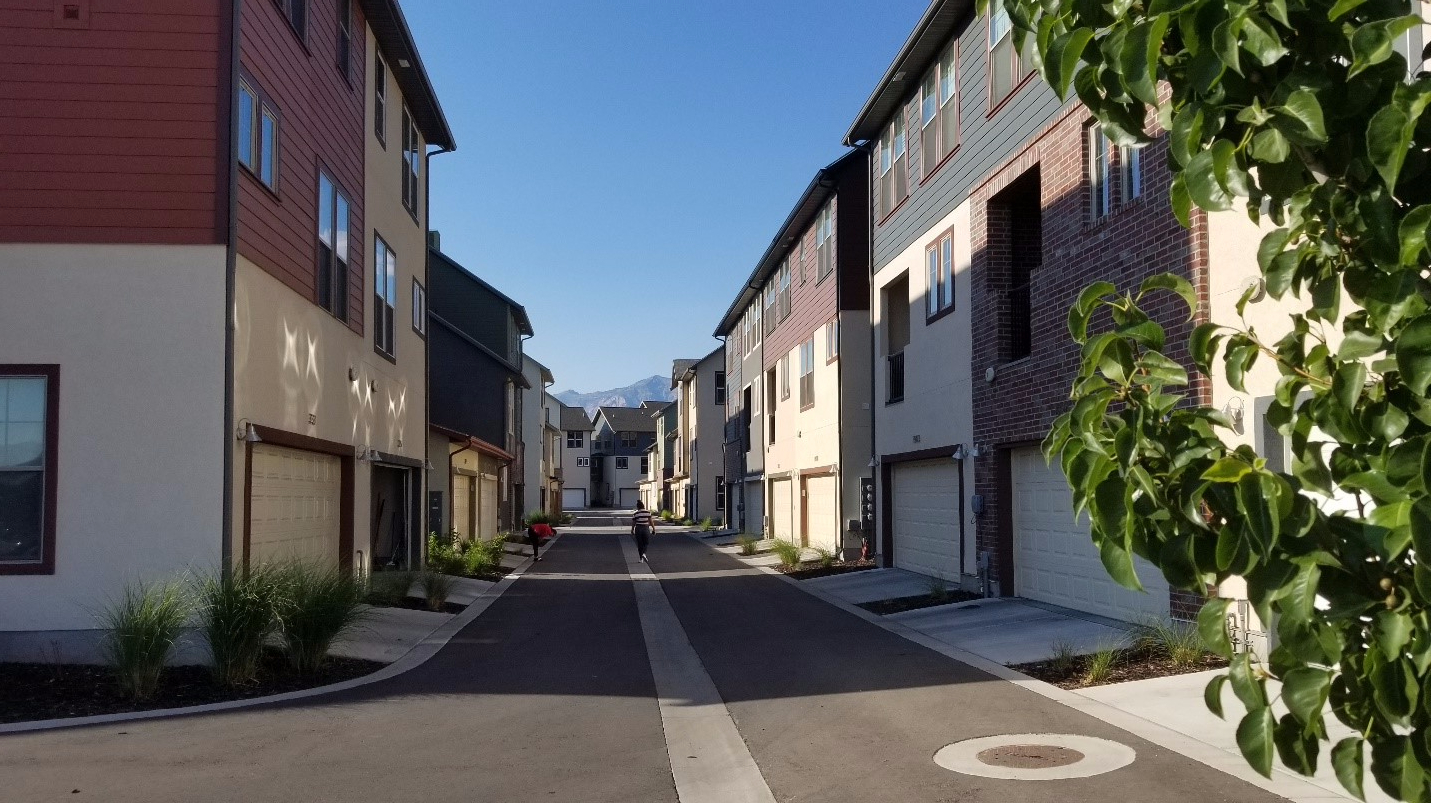 Over the past several decades, Ogden City has been creating momentum for neighborhood revitalization by building over 150 new homes in a range of neighborhoods throughout the downtown core. This public investment has helped to bring renewed interest to the city that has served as a catalyst for much-needed private investment to the downtown area.
The first stop on our tour is the Legacy Park subdivision located on the 2300 block of Liberty Avenue., constructed between 1999 and 2001 by the Ogden City Redevelopment Agency. Utilizing the city-infill ordinance, the City was able to use public financing to purchase several contiguous parcels of land. With a limited budget, the City faced a challenge of only being able to build a few units at a time. Greg said, "At first we had a hard time convincing the appraiser what the new properties were worth because there was no comparable in the market." On top of that, the mean family income of the area is only $29,000. However, this didn't seem to keep away buyers, and soon Legacy Park had a new community of 25 single family lots ranging from 4,500 to 8,700 square feet.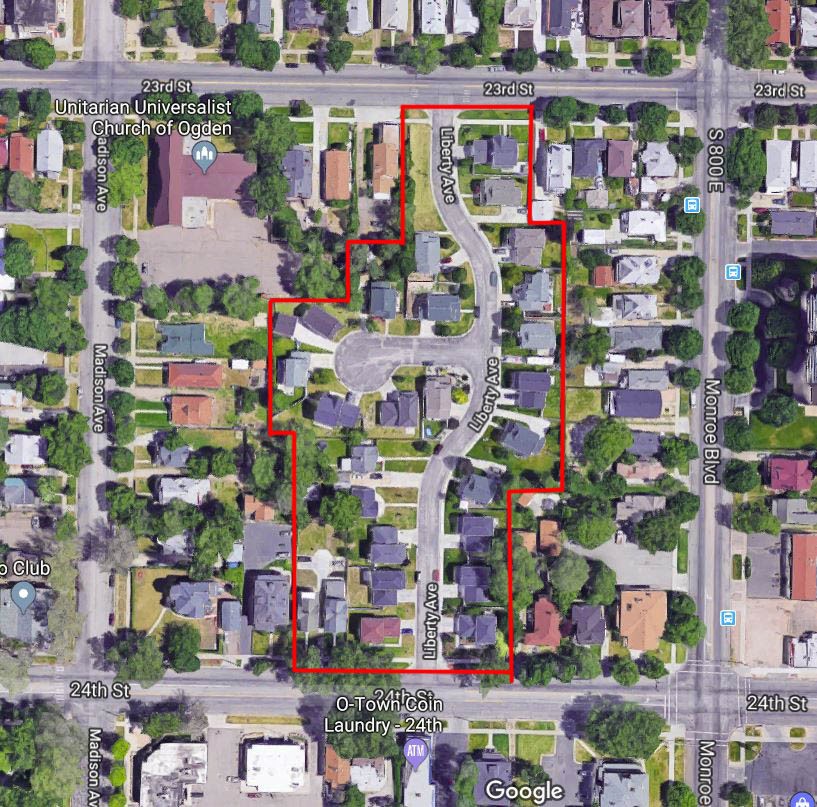 Image courtesy of Google Maps. Aerial of Legacy Park Subdivision (post-construction) showing the redevelopment area and new mid-block connection.
Two new City streets were born out of this City redevelopment project: Cohoon Drive (cul-de-sac) and Liberty Avenue (establishes a mid-block connection between 23rd and 24th Street.) The newly-minted Liberty Avenue has a small-scale residential feel to it, with a right-of-way of only 34.5 feet which promotes walkability and slow speeds.
The next stop on the tour was to the nearby Oak Den Bungalows is located between on 24th and 23rd Streets on the newly constructed Fowler Avenue. Created in 2014 by the City of Ogden, the Oak Den subdivision contains 23 craftsman-inspired homes that range from 1,700 to 2,000 square feet with detached garages adding additional usable space. Sitting on modest-size lots, the two-story bungalows were designed to blend into the existing neighborhood context and to reduce utility cost through sustainable building methods. With nearby downtown amenities and neighborhood, Oak Den Bungalows provide a high-quality product and a low-cost development typology that is not isolated in the traditional block neighborhood.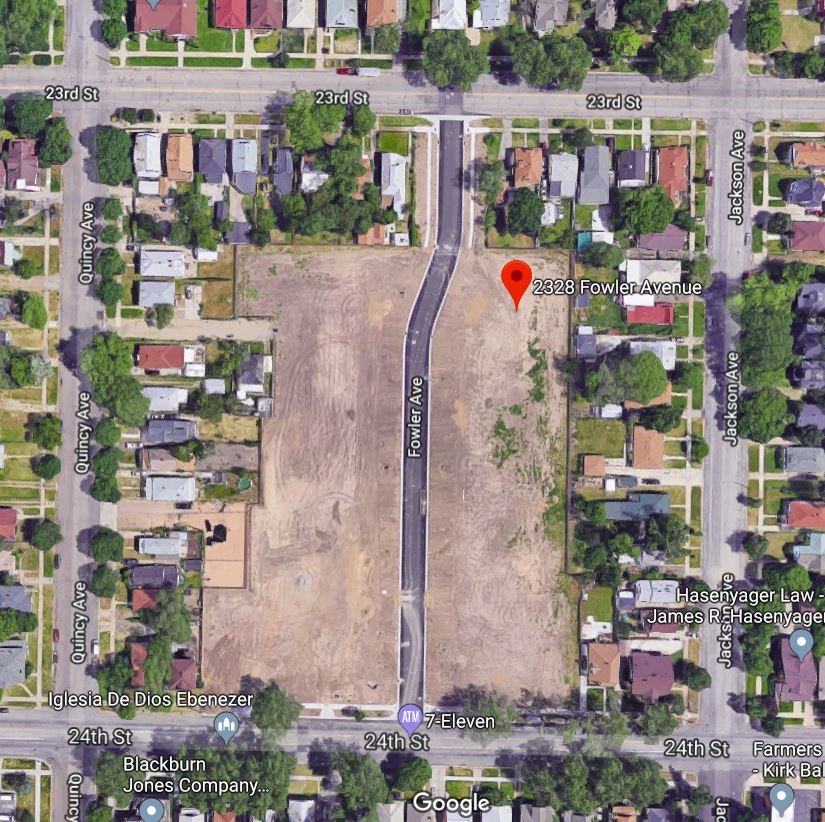 Image courtesy of Google Maps. Aerial of Oak Den (pre-construction) showing fowler avenue alignment.
To help incentivize home ownership to low-income residents, Ogden provided special financing that requires homeowners to live in place for a minimum of five years after purchase. With homes starting prices in the $180s (circa 2014), Oak Den Subdivision is certainly a step in the right direction for neighborhood revitalization projects that have long been overlooked by traditional developers.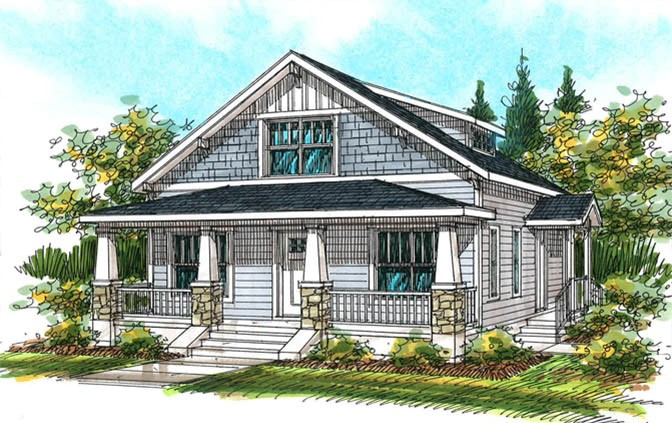 Image courtesy of Ogden City. Bungalow illustrative showing unique architectural form highlighting front porch and entry experience.
Moving on, we visited the newly-constructed Stone Hill subdivision that encompasses 4.1 acres in east-central Ogden. This development was made possible by the acquisition of the outdated Dee Elementary School, which was demolished in 2017 to make room for Newbridge Elementary School. Featuring 21 new units, the architecture of Stone Hill is contemporary in style and features angled porch awnings and modern lines. Selling in the high $200's, Stone Hill homes represent the new standard of upgraded inner-city housing stock that is beginning to turn the tide on nearby private investment spinoffs and increased tax revenue to the City.
Featuring a right-of-way of 49.5 feet, Fowler Street gives ample room for on-street parking and tree-lined parkstrips. I found it interesting that there was a fluctuation of right-of-way widths amongst the RDA projects throughout the years. Rather than having a design standard, Ogden street widths seem to be at the mercy of the political climate with Ogden engineering and the fire marshal. Nonetheless, Stone Hill is an invaluable asset to the Bungalow neighborhood and successfully accomplishes adding unique housing stock to the City's development portfolio.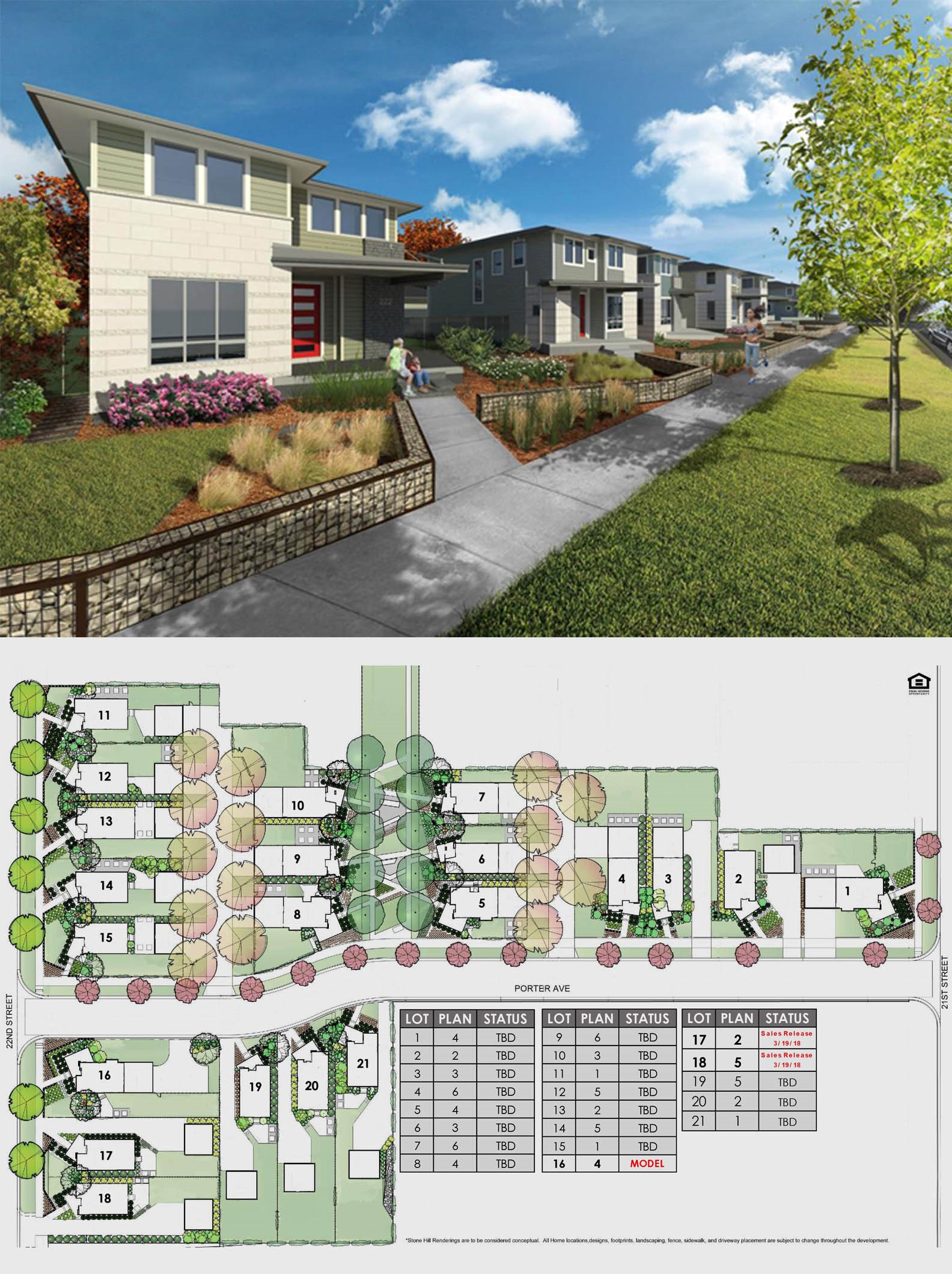 Stone Hill subdivision. Images courtesy of Sanders Associates & Ogden City. Angular porch awnings are reflected in the landscape with gabion walls, mass-plantings, asymmetrical walkways, and dynamic building facade.
With the demolition of Dee Elementary, Newbridge Elementary was constructed just a block away at 674 22nd Street as a Utah STEM-based platinum school. Once characterized by brutalist form, Dee Elementary made a strong architectural statement that suspended concrete masses above the classroom facade. Reluctantly, the Ogden School District made way on demolition of Dee Elementary and construction of Newbridge Elementary in hopes of bringing new opportunities to the community.
Completed in 2015, Newbridge Elementary is a 96,000-square-foot facility built upon an immersive curriculum. To make room for the school playground, Ogden City had to close a one-block section of Madison Avenue between 21st and 22nd Streets. To do this, the City was able to negotiate a perpetual easement to give room to the school. "This move has seen very little pushback from the community," says Montgomery. The caveat of this easement was that no permanent structure could be built within the historic right-of-way so that the existing underground utilities can be maintained. The adaptive reuse of Madison Ave. and re-programming of Liberty Park represents a successful collaboration that will continue for help the residents around Liberty Park to prosper for decades to come.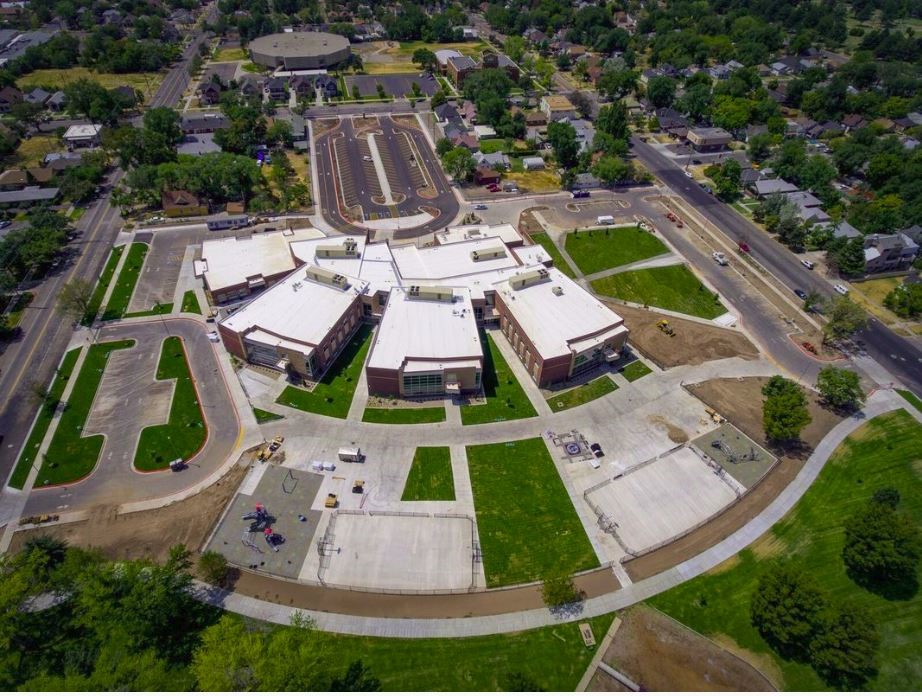 Image courtesy of Richer Images. Drone aerial shows Newbridge Elementary School grounds and its relationship to Liberty Park and surrounding neighborhood.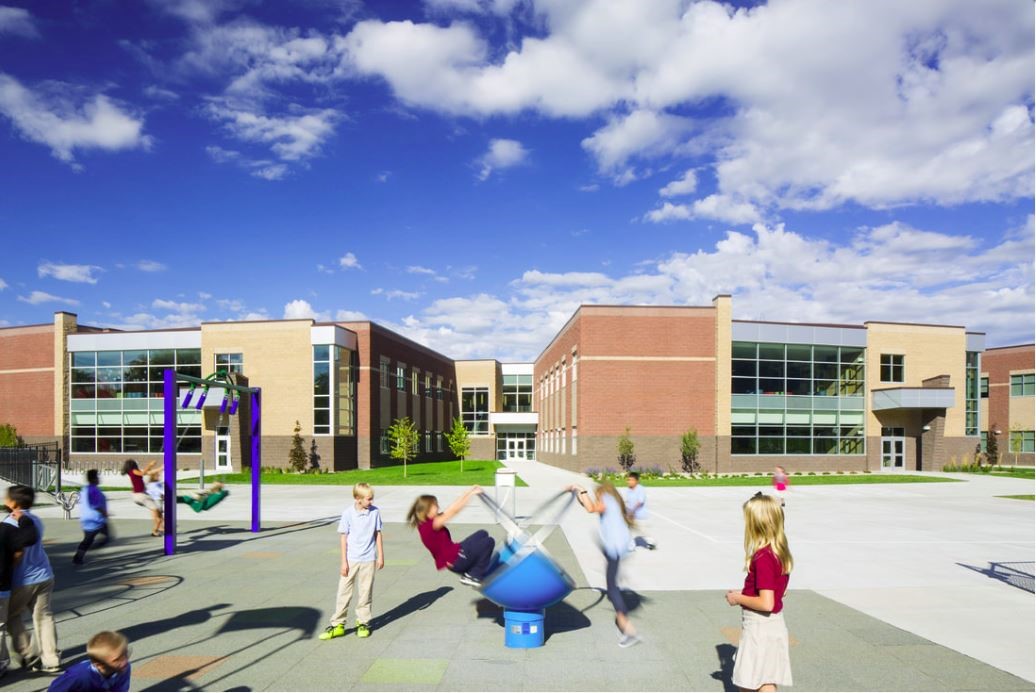 Image courtesy of Richer Images. Children play where once cars drove down Madison Avenue.
Expanding upon the Newbridge Elementary and Stone Hill developments, future plans are to make an extended mid-block connection to Washington Blvd. through several LDS Church properties. This vision would establish a three-block network of mid-block connections between the properties.
The last stop of our tour took us to the Ogden Riverbend subdivision. Located just north of downtown Ogden, this 60-acre mixed-use master-planned community is beginning to take shape. Conceived in 2002, the Ogden City Council established the Ogden River Redevelopment Project Area to transform the blighted Riverbend neighborhood into a vibrant neighborhood that connects urban amenities with outdoor recreation.
Image courtesy of City of Ogden. Residential 500+ units, including 150 apartments and nearly 70 townhomes.
This project was made possible by a 15-year tax increment financing budget allocation and private investment of nearly $150 million from private stakeholders such as PEG Development and 20th Street Investors, LLC. One of the project highlights is the trail connection made with the Ogden River Parkway, which received press in 2011 for having restored riparian habitat, improved streamflow, and improved recreational access.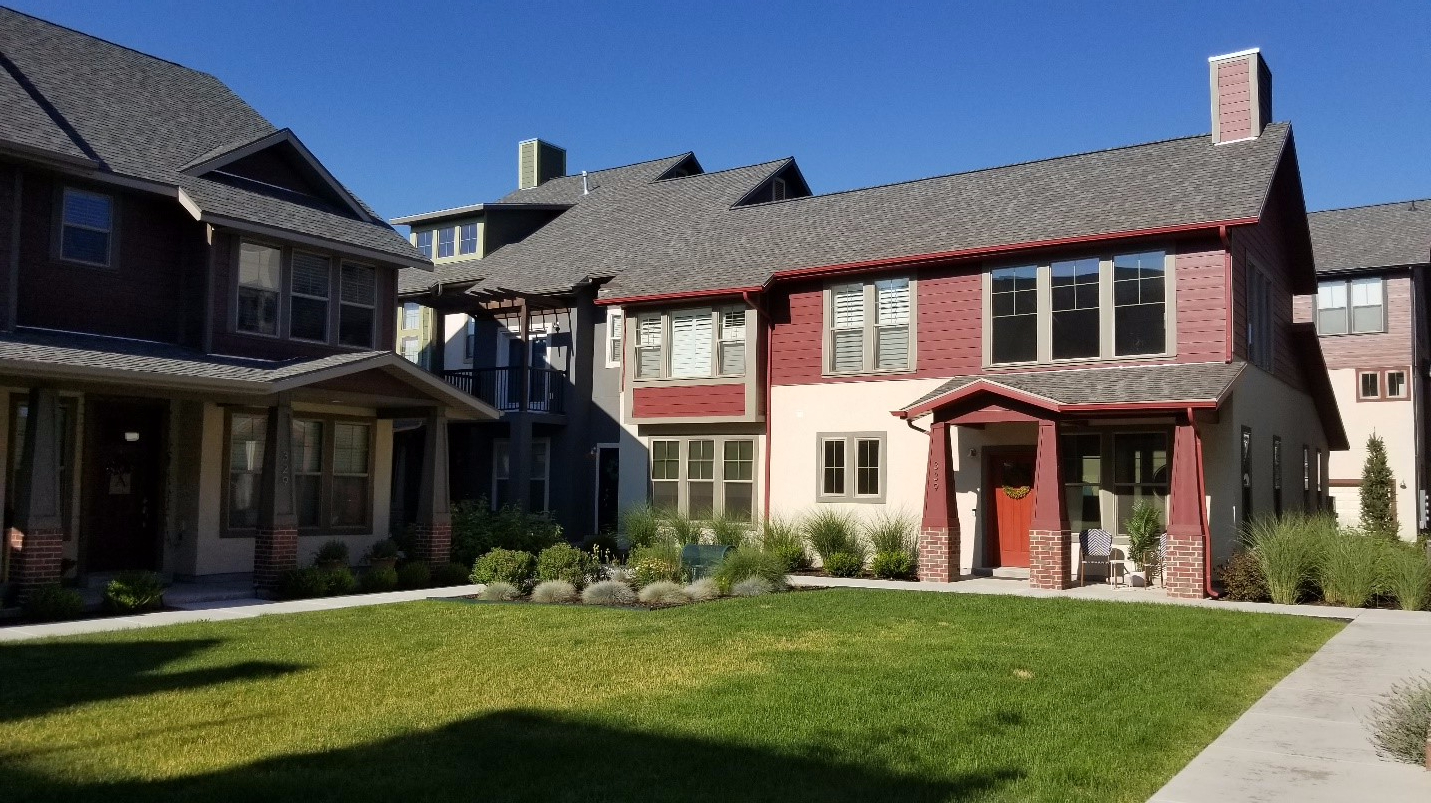 Image courtesy of Tyler Smithson. The Meadows at Riverbend offers a unique urban setting with three-story townhomes just south of the Ogden River. A walkable community close to the river parkway trail, nightlife, and shopping.
As the Meadows nears completion, signs of future phases are evidence that the work at Riverbend is far from complete. The next phases will include mixed-use development and multifamily housing units such as the View on 20th apartments, which will include more than 150 units.
As we wrap up the tour, it is apparent that the Plat of Zion has had a profound influence upon the City of Ogden and its urban fabric. For better or worse, the layout was both a blessing in traffic circulation and a curse in land utilization and pedestrian walkability. The evolution of this grid is a slow but steady process. But there is incremental revitalization and improved connectivity in the redevelopment projects that we visited along the tour. The future of downtown Ogden looks bright as these New Urbanism tweaks to the to the traditional block neighborhood begin to take root and bring diversity to the urban fabric.

With a long-term plan and a proactive vision, Ogden City has been able to make measurable urban improvements over the past 25 years at the neighborhood and block scales. On this tour, we saw first-hand the benefits of city-incentivized redevelopment can have in transforming blight into desirable neighborhoods. It is impossible to tell how many years the projects we visited would have been left underutilized and devalued had progressive thinkers like Greg Montgomery not stepped in. For a city that is mostly built-out, the outstanding service that the City of Odgen provided its citizens is largely unrecognized, but stands out as an early example of how principles of New Urbanism can lead to the revitalization of the cities we inhabit.
About the Author: Tyler Smithson is a landscape architect and planner with Bockholt Landscape Architecture in Park City. He also serves on the CNU Utah Programs Committee and enjoys traveling to learn how New Urbanist principles are being applied in a range of situation.